I have previously praised Youtube for the little favors it does for me.  Nice little things like teaching me how to make Miss 8 a cute mermaid costume and teaching me to cut Miss 3's hair in a nice way so she doesn't always look like a crazy little pigpen character.
Now, I must once again praise Youtube for cheering me up on an otherwise blah day.
This blah day consisted of nothing but washing clothes, packing for a spring break trip, and worrying about Miss 8's sick tummy, and I needed a pick me up.
(Not to mention that I detoured onto facebook while waiting for laundry and noticed some old acquaintances planning a get together for the summer that turned out to be our highschool reunion. It is not the 10 year and that's all I can say about how long it's been.)
I also noticed that my cute young funny sis-in-law who is  moving to an exotic, exciting, beautiful new place to live, had also dyed her hair some fun colors and looked really super.
The blahness of the day combined with the evilness of Facebook had me suddenly needing something new.   A new house!  A new car!  Or the cheaper option:
A Youtube game that I like to call, "Choose a Youtube Hairdo and Try it Out."
Granted, I know it's lame to combat a crisis with silly new hair and with my current short hair my options are limited, but Youtube rarely fails.
I watched a few twelve year-olds teach me how to style my "pixie" and then I ran across some very helpful teenage friends who helped me learn how to tie a Rosie the Riveter kerchief in my hair.  Not my usual look, but not too bad: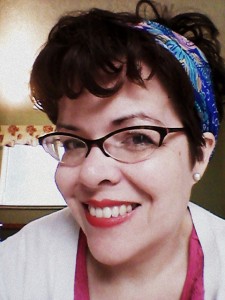 Notice, I added some dark red lipstick to complete my "Rosie" look, and let me tell you, that stuff really stays on!  It's practically tattoo lipstick.
Just a tip: babywipes take off makeup really well.  (thanks Maren)
I did get a little nervous when it was time for My Dear Husband to get home, but to his credit, he didn't make any jokes or "banter" at all about the interesting new look. He just mentioned something vague about not complaining when your wife decides to act like she's in the 50's. . . . of course, there's a lot I could say about that, but I will just settle for being happy that he didn't tease me mercilessly.  ; )
Besides, when I told him that the Youtube friend I learned from had neon red bangs and the rest of her hair was bleached white, I think he was just happy I didn't make it out to the store for hair dye.
Thanks Youtube, for helping me avert a mid-life crisis for a few more years!