Due to Home Improvement scheduling difficulties and a major misunderstanding on my part of exactly how long it should/actually does take to tape and mud drywall, I found myself with a spare weekend on my hands. Not super spare, I mean, there's always paperwork, and laundry and vacuuming and wall scrubbing and….ok, now I'm just feeling guilty…
Anyway, to cheer myself up about the prolonged project, I decided to indulge in a hobby. And, I reasoned, it will help our project because it is related to the new room! I have a little desk that I decided I would refinish so it would be fit to live in the garage-but-not-the-garage room.
I bought this desk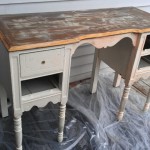 in the summer of 1993 at an ARC Thrift Store in Denver Colorado.  When I saw it, I knew it was mine. It was more money than I really should have spent at a thrift store on a desk I did not need, but something about this desk drew me in. My mom was with me and we managed to shove the desk into the back of the little Toyota hatchback I was driving. When Blair saw it, he hated it instantly. He never has understood my love of old crappy stuff, right down to the apartment I rented for us in Denver which led me to this desk. I sanded it and promptly painted it blue.
A year later we were living in Orem and I decided to paint the desk a dark green with a stained wood top. I learned how to do it out of a library book.
A couple of years later, I thought I liked French Provincial stuff and painted it an off white with sort of old gold. A year after that, I took the white off the top and restained it a dark color.
This year, I want my beloved tiny desk to be an almost black shiny thing to put in the new room er, West Wing? Room of Requirement? Palace? Fun Zone? Bronco Room?
Anyway, here is the finished project: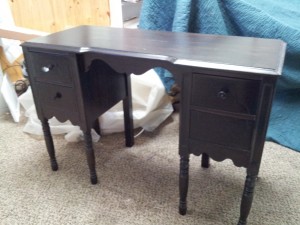 There are 3 different drawer pulls because I haven't decided which one I like the best.
This last weekend, I spent painting the Room-Which-Is-Not-Yet-Named. This is a preview: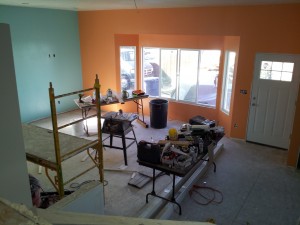 And, for the record, I will not tell you the name of the orange paint. If you guess it, I will buy you a Giant Hershey's Symphony Bar.